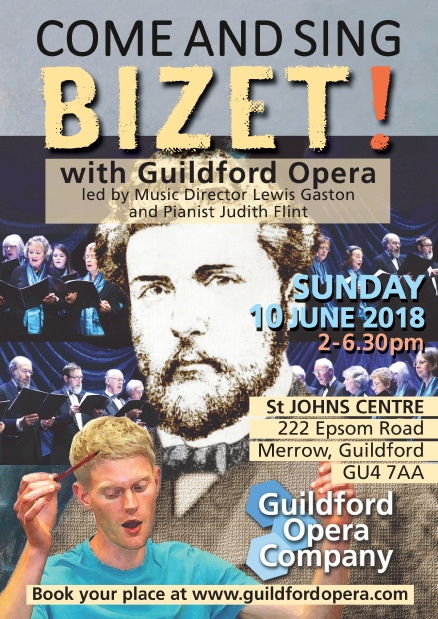 Come and sing Workshop
Sunday 10

th

June 2018
Venue: St. John's Centre, Merrow, Guildford GU4 7AA
Registration 1.45-2pm; Workshop 2-6.30pm.


£15 (students free) including music score, tea/coffee and a cream tea.
Guildford Opera invite you to join them to explore the life of Georges Bizet through his opera's. The afternoon will be led by our Music Director Lewis Gaston who will take us through his life and works, demonstrating his musical development as we learn and sing some of his well-known and also less popular choruses.
An opportunity to come and experience singing together with Guildford Opera Chorus members
Come and meet members of our chorus and other like-minded opera lovers
You do not have to be able to read music, but you must be able to sing in tune!
We rehearse on Wednesday evenings from 7.30 to 10pm as well as the occasional Sunday afternoon as we get closer to the performance week.
Book your place on the Workshop now.
You have three choices.
You can download and fill out an application form here.
Alternatively please click the Paypal button below and you will be taken to a secure payment page. Payments can be made either through your Paypal account or through a card payment.

Tickets can also be obtained from Guildford Tourist Information Centre
155 High Street, Guildford, GU1 3A

Click here for their online booking link