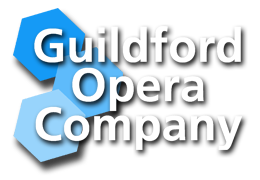 Bizet's opera 'Carmen', is one of passion, colour, memorable melodies and, above all contrasts. Tuesday's first night by Guildford Opera Company at the Electric Theatre whilst it did not quite impress in all these elements was still a performance with much to be proud of.
The opera tells the story of Carmen, a seductive gypsy girl and the tragedies of love and jealousy wrought through her 'relationships' with Don Jose, a soldier, and Escamillo a famous bullfighter. It begins by introducing Micaela, a girl of quite different character to the fiery and sultry Carmen, who loves Don Jose. Hannah Kirk's beautifully sung and enunciated portrayal captured well her purity and gentleness of character, and her third act aria was movingly sung. It is against her simple goodness that the character of Carmen is starkly contrasted.
From the very first there was some fine playing from the orchestra and musical director Francis Griffin did an excellent job holding together the forces of orchestra, chorus and soloists in the many notorious rhythmic twists and turns of this opera. There were some tricky moments where chorus and orchestra briefly parted company, but only in the final off stage chorus did the chorus totally escape the master's baton. Perhaps this was just first night eagerness!
The production had too many moments when nothing carried the movement of the opera forward and the impetus was lost as we waited for the next number to begin. That said, there were still many scenes full of colour and excellent acting. The card scene was particularly memorable as was the quintet and chorus in the smugglers scene, and the children's scenes were amazingly accurate musically without losing any of the drama. Thanks too for the Flamenco dancing of Rosa Fernandez.
Philipa Thomson's Carmen was a pleasure to listen to; vocally secure and with a thrlling timbre throughout the range. For me though I found her physicality too languid for this Spanish beauty and her clarity of diction sacrificed to beauty of tone. The same can be said for the diction of Escamillo, Thomas Humphreys, though he was a fine figure of a bull-fighter with an equally fine voice and his rendering of the Toreador's aria was exceptionally good. James Kinsella as Don Jose is obviously a seasoned performer and vocally impressive throughout. He did not always hold his character between musical numbers but his obsessive passion, particularly in the final moments of the opera was strong and immensely moving.
The roles of Frasquita and Mercedes were taken by Eleanor Hemmens and Helen Clutterbuck. It is not often one hears these roles so well sung, nor sees them so well acted. Both girls brought real presence to the stage and real depth to their characters. There were some fine voices amongst the minor male roles, in particular James Davis as Zuniga. I must also mention the excellent diction of Nicholas George in both of his roles.
There was some fine chorus singing in spite of the rocky moments previously mentioned, and some colourful acting. In the final act there needed to be more awareness from every chorus member of exactly where Escamillo was going to enter, in order to keep the anticipation going throughout what is quite a lengthy march.
All in all though, an enjoyable evening at the opera!
Passion in Seville
Carmen Review by Gillian Ramsden