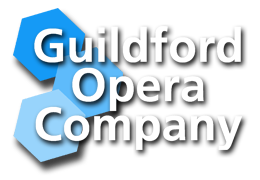 Cast Details, Image Gallery and Reviews
Die Fledermaus premiered in 1874 in Vienna. It is based on a three-act French vaudeville play of 1872. Johann Strauss's most popular opera, it is full of memorable and easily recognised tunes. The plot is complex but contains a good deal of amusing situations. Lively and uplifting it is, certainly. Guildford Opera always offer a pre-performance talk before one of the performances, where the directors discuss their approach to the opera in question. I find this very useful and enjoyable.
Guildford's popular Electric Theatre provides an excellent venue for GOC. Its friendly volunteer ushers extend a warm welcome.
The well-designed programme contained a good synopsis and Director's Note, interesting director and cast profiles, a piece on Johann Strauss II, the always useful list of past productions, and a piece on NODA and the awards the society has achieved over the last few years.
The set was simple but effective and attractive, consisting of tall panels decorated at the top with roundels which varied according to the setting. The first act took place in the Eisensteins' living room, where the panels were interspersed with elegant long black curtains. A rather unappetising pig's head was due to be Eisenstein's final sumptuous supper before his spell in gaol. In the ball scene, the curtains were replaced with more panels decorated with champagne glasses or bottles, masks, and I believe, a bat. Barred windows appeared in the gaol scene, as well as some keys, a coat stand, a bottle of schnapps, a desk and some paperwork. Lighting was very effective throughout.
As always, Guildford Opera excelled in the costume department, from Rosalinda's elegant long green 2-piece with the elegant cream blouse, to the gaoler Frosch's interesting jacket. As the curtain opened onto the ball scene, I gasped in delight. The ladies looked stunning with several, but not all, gowns being turquoise blue or green, but all different, all so elegant and charming. Long gloves and headdresses were worn, but maybe the finest detail was the fact that their hair was set in elegant Edwardian style. Adele and Rosalinda looked wonderful in their ball gowns, a peaches-and-cream very off-the-shoulder number for Adele, and a stunning red and black one for the 'Hungarian Countess' Rosalinda.
The well-balanced 8-piece orchestra was, as always, in very good hands under the direction of Lewis Gaston. The 9 soloists excelled themselves, and the balance of sound was very good indeed throughout. Sadly, die Fledermaus does not offer too much opportunity to enjoy the chorus, so it was a great decision to act out the abandoning of the drunken Falke on a bench in the middle of town by his friend Eisenstein, put words to the overture, and thus be able to enjoy the chorus, acting as the amused and shocked townspeople who discover him there.
Guildford Opera presented a fine performance of this most jolly of operas. The translation by Peter Melville allowed all the humour to emerge fully into the light, and the comic timing of the cast was excellent.
The overture scene, where a crowd waiting for a tram complains about a noisy party, and we see Eisenstein (Kevin John) and Falke (David Chapman) stagger in very drunk in fancy dress – Falke as the bat of the title, was very amusing, and as I said before, a great opportunity to enjoy the chorus in great voice right from the start. I wondered how easy it was to sing while acting very drunk and must praise out two soloists for pulling it off with great aplomb.
Act I, in Eisenstein's lavish apartment, sets the scene for what is to come. Adele, Eisenstsein's feisty maid, was played with great verve and spirit by Isolde Roxby. Her petulance when her desire for the evening off 'to visit her sick aunt', but in reality to go to Prince Olofsky's ball, was very funny. We quickly understood the relationship between maid and mistress – the maid would obviously often try her employer's patience in this way. We learnt later that Adele was a strong-willed young lady with ambition.
Rosalinda Eisenstein (Anna Goodhew) was an elegant young married lady, somewhat embarrassed yet also intrigued and delighted, to have the attention of an admirer Alfred (Richard Johnson). One sensed that Rosalinda only wanted a mild flirtation, nothing that would endanger her marriage, whereas Alfred was by far the more reckless of the two.
Falke's enticement with the invitation to the Prince's ball, allowed Eisenstein to escape home in full finery 'to arrive at gaol in style'. The two gentlemen could hardly contain their glee. Thus this talented cast built up the expectation of what was to come in Act 2, great acting as well as superb singing from all participants here.
Act 2 did not disappoint. It fizzed and buzzed all the way through, both a visual and musical delight, as well as full of sparkling humour. The fun that Falke instigated as his revenge for Eisenstein's deserting him drunk on the bench dressed as a bat, and for the benefit of the bored Prince Olofsky (Rachel Goreing) was marvellously portrayed – Eisenstein and Frank having to speak their non-existent French to one another, Adele pretending to be a glamorous actress, and her mistress a masked Hungarian countess. Eisenstein used his famous 'seducing' watch unknowingly on his own wife, the toast to champagne, and finally Eisenstein, the future prisoner, and Frank, the prison director, staggering off together were all excellently executed, with marvellous comic timing. The chorus, as well as the soloists, were fabulous.
The humour continued in Act 3. Frosch, the gaoler, swigging his slivovitz, was played masterfully by Carlos Garcia in a non-singing role, very funny indeed. All is finally revealed, to much amusement, and it was decided that it was all the fault of champagne!
So Guildford Opera has once again provided us with an excellent and joyful evening, with its strong cast of great singers not only providing fine musical moments, but also great acting, bringing out all the humour of this piece so well.
Pauline Surrey, NODA.