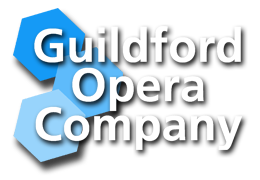 Cast Details, Image Gallery and Reviews
Description of the Production
19th Century India provides the setting for this intriguing opera. The Brahmins are full of anger and resentment towards the British colonialists who are destroying their shrines, and trying to change their way of life. The British soldiers and civilians appear seemingly oblivious, stiff upper lip and all that. A forbidden love develops between Gerald, a young army officer, and Lakme, the innocent young daughter of a strict Brahmin priest.
Venue Ambience
A beautiful Georgian church, with a fine acoustic, Holy Trinity provided a new venue for Guildford Opera Company, and rather an exciting one, I felt.
The Production
One was immediately transported to the colourful sights and sounds of India the minute the action began. The cultural clash of manners and customs was made abundantly clear by the resentful and angry Brahmin priest Nilakantha, protesting furiously about the hated English invaders, and their attitude to the local religious groups, and desecration of their shrines. Simon Wilson gave a fine performance in this nuanced role, the fierce priest, the strict father, yet also a kindly father, exceedingly fond of his young daughter.
Lakme, this beautiful, innocent young girl, listens on. You sense her awakening to the world around her, how old will she be, 16, 18 maybe? Not only, of course, is she awakening to the world around her the way her father sees it, but also her emotions are awakening to the beauty of nature, the flowers and birds that surround her in her father's garden, and inevitably to the possibility of love in the future. Now, to find a soprano who can display this quite gradual and complex 'awakening' in her face and body language must be quite a tall order, but to find someone who can do all that with such a fine voice, able to sing this complex part exquisitely – how rare can that be? In Hannah Dobra, Guildford Opera found that rare gem. We the audience felt privileged to be witness to this, as I heard non-stop in the interval, and in my walk to the car park! A superb performance. Hannah's rendering with Thalie Knights (Malika, her maid) of the famous Flower Duet, such a haunting melody, was perfection. Congratulations, ladies, this will stay in my memory for many years to come.
Tom Morss, performed well as the young English officer, who appears on the scene to complete Lakme's awakening. A forbidden love ensues. This fragile and sensitive creature, at the same time a dutiful and respectful daughter, is forced by her father to sing endlessly in the market square until her admirer appears, so he can be identified, trapped and then stabbed. And so we have the famous Bell Song. This song must surely be one of the most difficult to sing, testing the full range of a soprano's voice. Hannah Dobra managed to sing it exquisitely, it resounded round the church, but I was also fascinated to watch her face, her expressions, her horror, which she so well expressed, at being forced in this way to betray the man she loved, and thus cause his death. This lady has a special talent.
So we were treated to both fine, sensuous music, and music full of tension and anger. The chorus were in fine voice indeed, the other principals all provided great performances, well acted as well as sung.
Congratulations to Kevin John (Director) and Lewis Gaston (Musical Director) for this excellent rendition of this intriguing opera. Thank you, Guildford Opera Company, for giving us the chance to enjoy this fine, yet seldom performed opera here in our town.
Pauline Surrey
The Programme
Well-designed, with interesting Director's notes; cast and directors' profiles; a good synopsis; information about G.O.C and its past productions; and a short piece about Delibes, all enhanced the audience's enjoyment of the show. I would have liked the piece about Delibes to be a little longer, maybe with information about how the opera, written in 1883, was received in the UK when it was first performed there in 1895, with its anti-colonial stance.
Scenery/Set/Props
There was neither the opportunity, nor in fact the need, for elaborate scenery. The beautiful setting of the church, with its metalwork, filigree screen, made for a perfectly adequate, romantic set for the Brahmin priest's garden, when draped through with flowers. Later it easily became a busy market place when hung with baskets and colourful cloths.
OPINION
From the Stage with
Jeff Thomson
UNDER the Musical Direction of Lewis Gaston the Guildford Opera Company is delivering a refreshed profile.
Recent productions have seen its competent amateur chorus headed by professional soloists but in Lakme by Delibes - their production last week several members from the chorus were elevated to named, supporting, roles. This was achieved with credit.
A new location, Holy Trinity Church in the High Street, posed fundamental challenges but a grand-piano, two pianists, an arrangement for four hands did well to capture the colouring of Delibes' score. If the acoustics occasionally surprised with 'dead areas' these were temporary moments. The storyline is of forbidden love and ends intragedy; well, this is opera.
The production didn't always suggest to me 'the mysteries of the Indian sub-continent' but did reveal stunning moments of musical excellence.
The evening belonged to soprano Hannah Dobra as Lakme who delivered a presence and passion that compelled attention. Her Flower Duet with Thalie Knights was breathtaking.
In the event, a large audience offered the company sustained applause.