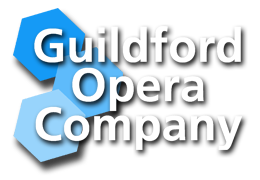 Cast Details, Image Gallery and Reviews
NODA Report
Author: Pauline Surrey
………Lewis Gaston, the company's fine Musical Director, was able to create a well-balanced sound from orchestra and voices. His work with the chorus clearly paid off, they excelled themselves, they shone.
The exciting thing about Guildford Opera for me is that they choose such a varied programme of operas, and include also rarely performed and/or challenging ones. I feel that Macbeth must have been a very satisfying experience for all concerned, hard work, challenging, a great deal of learning involved, and great fun as it all came together.
At first I was puzzled. Verdi's Macbeth has various differences from Shakespeare's story. For example the witches. Shakespeare's trio becomes a coven of witches in Verdi's version. I think the modern dress also fazed me in the first half, and the uniforms. In the second half, however, I realised how the stark set, modern dress, uniforms, and weapons really brought home the themes of the story - how ambition and power corrupt, and how, sadly, this has continued throughout all our lifetimes and will into the future. So Verdi, and Guildford Opera Company have done this rather well! Stephen Oliver, the Director, points out in his notes that whereas Shakespeare's tragedy is essentially a private one between husband and wife, Verdi draws our attention towards wider political and moral concerns, how this personal conflict, this ambition, consequently affects the wider public.
Jeff Thomson in Surrey Advertiser
Guildford Opera were also in good voice last week at the Electric Theatre for Verdi's Macbeth
- a dark tale similar to Shakespeare's plot line -but not quite. Verdi never saw the play performed until after his opera's premiere; he restructures the narrative, adds a substantial coven of witches and introduces elements of the supernatural. As an audience we can recognise the story but from time to time it intriguingly shifts from the familiar.It was a challenging choice for Guildford Opera with a score that sweeps and dives at frequent, dramatic, moments. It was also an ambitious decision by musical director Lewis Gaston but clearly Gaston had confidence the Company could meet the challenge. They did. Voices soared into the auditorium, strong and vibrant against the full bodied orchestration. The Electric Theatre vibrated at the deeper resonances of the bassoon and melancholic cor anglais as they rose from the pit, while murder was planned above.
Chris Childs-Santos shouldered the responsibility of the leading role. His rich baritone suggested menace from an alpha male and competently anchored the evening. Laura Wolk-Lewanowicz brought passion and malevolence to the role of Lady Macbeth – her soprano voice effortlessly demonstrating mastery of a demanding score that compelled our attention.
Stage director Stephen Oliver stimulated imagination with an abstract setting that was washed by intense lighting - vibrant green, blood red and ice blue while his group tableau settings indicated enviable flair. A full review will shortly appear in What's On.
Among the surprises the evening offered me was 'discovering' Kevin John's tenor; I have long associated Kevin John with direction and design but his Act 4 solo as Macduff was a revelation; perfect clarity with distinct interpretation.
At the base of all was the chorus – looking progressively mature and badly in need of some younger recruits - but in excellent voice. It really is a privilege to have on hand live Grand Opera and the opportunity to sit back and celebrate it. The modest audience I joined did just that.
Chris Childs Santos was in fine voice as Macbeth, and vividly expressed his inner turmoil, his fears, his tortured soul. Laura Wolk-Lewanowicz was a brutal, power-hungry, super-strong Lady Macbeth, able to goad her husband into ever more dreadful acts, belittling him all the while. A fine, powerful voice, almost harsh when the role demanded, yet showing desperate vulnerability in the sleepwalking scene.
Michael Christie (Banquo), Guido Smeets (Malcolm) and Sidonie Winter (Gentlewoman) all gave good performances. The highlight of the evening for me was Kevin John's performance of Macduff's lament on learning of the murder of his wife and children. His horror at not having been able to be present in their last moments, and defend his family, and vowing to take his revenge on their murderer, came across so clearly. He was so believable, and the voice was exquisite, very moving indeed.
The chorus relished their various key scenes. The witches, - three cauldrons, not just the one, as in Shakespeare, - were very busy mixing their complex spells, and very menacing. As refugees, their rendering of the lament: 'Oh tragic country! You cannot have the sweet name of Mother now that you have become a grave for all your sons' moved me intensely, in our world of refugees from numerous conflicts. Sadly nothing much changes, and I was filled with despair. I will not forget their anguished faces, their bundles and old suitcases. A stunning performance of this lament, by this excellent chorus, well directed. In the Victory Song after Macduff had dispatched Macbeth, the joy and relief was palpable.
Good theatre should, in my opinion, make one stop and think. I have been thinking about the everlasting themes of Verdi's Macbeth ever since. So, once again, a good success. Thank you, Guildford Opera Company.
Macbeth