Guildford Opera : Cast Details and Reviews
The Tempest, an opera by Joe St Johanser
Prospero Tim Baldwin
Ariel 1 Anna Loveday
Ariel 2 Lizzie Hull
Ariel 3 Leo Shearing
Miranda Helen Semple
Ferdinand Yuri Sabatini
Calibran Richard Arundel
Stephanie Jill House
Trincula Joanna Tomlinson
Alonso Nigel Evans-Thompson
Antonia Marion Hughes
Sebastiane Wyktoria Szyrocka
Boatswain Nick Gee
Master Roy Miles
Jody Coe, Pippa Davis, Graham Fisher, Ted Hart, Joan Hounsome, Alan Knight, Sheila Knight, Glenis Magill, Peter Melville, Roy Miles, Beryl Northam, Clive Perry, Joan Robinson, Rita Rowland, Ming Rutherford, Sue Squirrell, Eligio Tanggia, Gill Tarryer.
Violin 1 Tina Bowles (Leader)
Violin 2 Lawrence Lea
Viola Emily Firth
Cello Jayne Spencer
Bass Gemma Murray
Flute Elizabeth Cutts
Oboe Sara Grint
Clarinet Tracey Thurlow
Bassoon Olwen Griffin
Horn 1 Jonathan Wood
Horn 2 Fiona Brockhurst
Percussion Elizabeth Barker
NODA SE Region - Show Report (from NODA website - 09/06/2011)
Guildford Opera
The Tempest
Reviewed by: Betty Haslam on Saturday 30 April 2011
Venue: The Electric Theatre, Guildford
Type of Production: Grand Opera
Producer/Director: Jackie Shearer
Musical Director: Francis Griffin
Choreographer:
Show Report
The Tempest by Shakespeare, using the poetry of the play was the basis for
Joe St. Johanser's operatic composition which Guildford Opera premiered. Rob Mills design for the scenery cleverly depicted a stormy sea, a giant wave and a sea shore with sand Excellent lighting designed and operated by John Whitehead. Kris Benjafield used costume from the in house wardrobe which was very effective. Specialist costumes by Leslie Griffiths. Clever makeup with especial note of how Richard Arundel (Caliban) was transformed by Louise Walsh. The rich timbre of bass/baritone Tim Baldwin (Prospero) coupled with an excellent stage presence made for an excellent portrayal of the part. Richard Arundel (Caliban) the deformed slave whose powerful baritone and acting enthralled the audience . Anna Loveday, Lizzie Hull, and Leo Shearing as the three Ariel Spirits played their parts well. Helen Semple (Miranda) had a very pleasant voice and was comfortable in her part. Yuri Sabatini (Ferdinand) thrilled the audience with his wonderful tenor voice. Musical direction by Francis Griffin and Stage Direction by Jackie Shearer complemented with a strong cast of excellent singers made for a very enjoyable evening.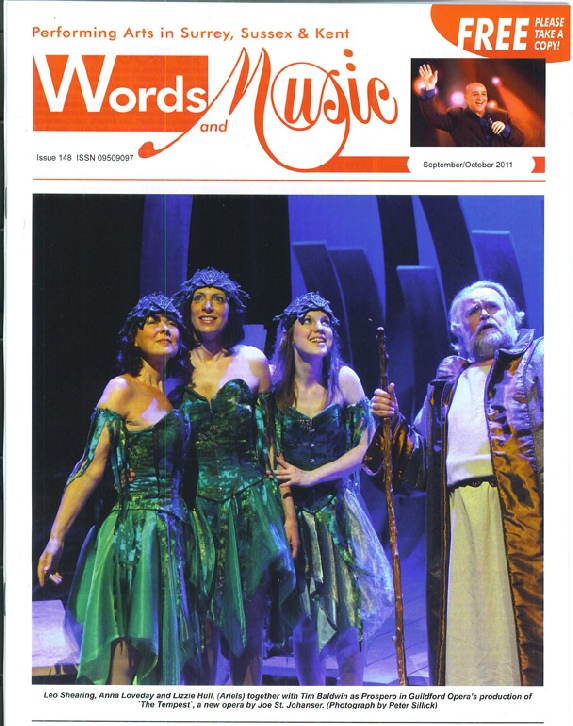 Move mouse over image on the right to reveal the review
Musical Director
Francis Griffin
Stage Director
Jackie Shearer